They HAD A BIG DAY!!! These guys played ALL DAY long and then had a visit from the in laws. They were such good boys and slept for a while like this, they also were big cuddle bugs.
Sunday was a mellow day at home for sure, I did some cleaning and organizing and then we all hung out and waited and waited and waited for Mikes Family to come over. We had some coffee and caught up on life and watched the NASCAR race. Mike has become so invested in the race lately and I feel like a kid again at my Nana and Gramps and watching the race. He even shushed me at one point. I DID however stand and cheer on the last lap where there was a HUGE crash. Everyone was safe and fine but man what a crash.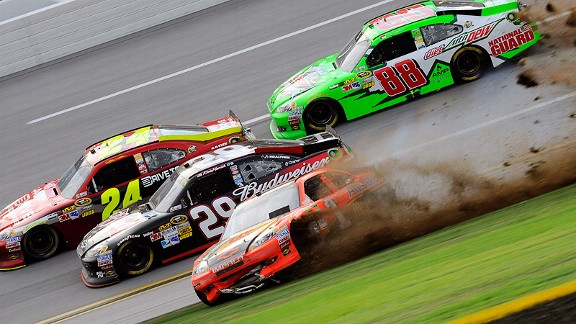 Mike Likes Gordon, He escaped that crash by the skin of his teeth.
I planned on
Make It Paleo BBQ
sauce and Ribs for Sundays dinner but I was too slow on putting it in the slow cooker. So we dug through the safe and got out some TGI Fridays gift cards and went out for dinner with Mike's parents. I got a burger and didn't eat the bun, or all of the fries.
Mike even let me watch part 2 of the
RHONJ reunion
. I know he secretly wants to watch the show too. So we hung out and vegged for the night on Sunday it was great!!!
Do you believe Joe?


XO,
Ash